Editor's Note: In this report on digital banking and digital onboarding, instead of writing about Millennials and Gen Z, their needs, desires, and putting words in their mouth, we asked college students to create a blog in their words and describe what it is like to apply for bank accounts and credit cards through mobile apps and online. Warning: There will be gifs.
For banking executives: This is actual voice of customer (VOC) data - it records their experiences, written in their voice, only edited for clarity. While these stories are anecdotal, they paint a clear picture of the state of industry efforts to onboard this audience. It behooves us, as an industry, to take note of the range of issues - from knowledge gap, technical issues, to the occasional CX gap these customers experience. In most cases, these college students were unable to complete their applications successfully. So, as a result, these banks and credit card companies have missed out on the potential for new lifelong customers.
Fortunately, many issues raised here can be readily resolved.  Issues like agent interaction and self-serve technology can streamline bank account and credit card onboarding experiences for Millennials, Gen Z, and other generations of customers.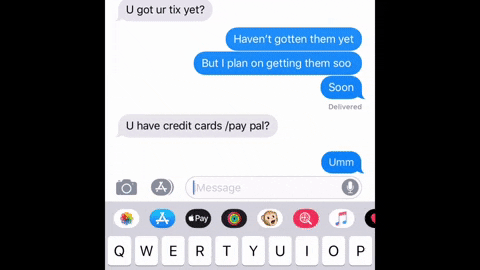 Want to skip ahead to read specific findings or conclusions? Click the following links or jump to the conclusions
here
.
"As college students, our ability to spend money, buy things and go to music festivals is at an all-time high. But, we admit, our financial literacy is pretty low. We set out to try to open bank accounts and get credit cards.  While doing so, we documented our sometimes straightforward and sometimes downright humorous experiences. Ultimately, we were posed with the question:
What is it like to apply for credit cards and bank accounts via mobile apps and websites?
We are gonna show you our step-by-step journey of opening a new bank account and applying for credit cards and loans at several banks. It's a process that millions of customers across America attempt every year. And, as you'll soon see, even though the apps and websites can be pretty, sometimes it can still be a frustrating experience.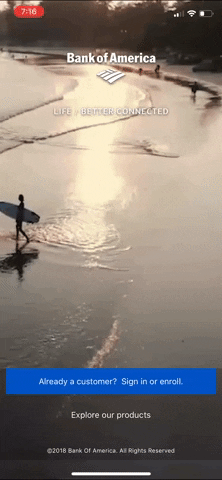 For example, when you first open up the Bank of America app, you are greeted by footage of a girl riding away into the sunset on a surfboard, it's calm, it's serene and it sets you up to think that this process will be a breeze. Unfortunately, the coast is soon switched for jargon, or design and an application, that takes you to a website, that takes you to an application... you get it. Not exactly the stroll on the beach we were expecting.  But not all our experiences were like that. Often we were able to complete the process in a somewhat reasonable time.
Overall, this guide was put together to highlight the small victories that exist in consumer retail banking, and call attention to some of the pains that are still being experienced by customers like us every day. Thankfully for most banking customers, they only attempt these once in a blue moon. For us, my friends and team of students, it was 3 times over spring break! Step one to adulthood is obviously opening up a checking account at my bank, but they didn't exactly teach this in college."

Citibank- Checking Account
So let's start with Citibank. Here's the personal testimony of our first college student, David, who wanted to open a checking account.
"Some personal information was all it took for me to sign up, add in my social security and boom! I'm in. They even told us it was easy, right? What could possibly go wrong? Okay, simple, to qualify for a checking account, I just fulfill the requirements of having a U.S address, be a U.S citizen and have a social security number. Looks like I'm onto the next stage. Now for the tricky part, I've left the app, linked the account to my existing Chase account in my browser and I'm now back in the Citi App. Wow, that's a lot of jumping around.
Great, so far so good, after I linked my Chase account, my new checking account was good to go.
And now for that credit card..."
Citi Bank- Credit Card
"I'm a step closer to getting that money. All I need to do is sign up for a credit card. But where is the form? Argh. It's nowhere to be found on the website.
Not a problem, I'm sure customer service will be happy to help - hmmm.
This was a major customer service FAIL. Why are they sending me to a website or a branch? I don't have time for that. I had messaged in the hope of getting help and completing the process. 
After my brief discussion with Kimberly (was she a chatbot?), I visited the Citibank website on my iPhone browser and signed into my new Citibank account, where I clicked "credit cards."
There were eight different options of cards. Who knew there were eight types of credit cards? I was unsure of what I wanted or needed as this was all very new to me. I wondered if Kimberly could have helped? Hmm, if I choose the travel card, is my card not secure because I didn't choose the secure card? Anyway, it's all been a bit of a headache. After the headache temporarily subsided, I decided to view all the cards to get a better understanding and then ended up selecting the Citi Double Cash Card as it had far more reviews and a higher rating — and hey, who doesn't like double cash? They give it to you for free, right? It then gave me all the information about the card which quite frankly, made no sense to me or anyone I know as we have never learned anything about credit cards. But I still decided to apply for it anyway because of the reviews and ratings. Probably in hindsight I could have made a more informed decision. Because, if I am being real, I have spent more time picking out what socks to wear in the morning. This is where it gets interesting, the Bank brought me to a page titled "tell us about yourself." This was going to be great...I could spend many days describing myself but they weren't interested in me. They were more interested in my annual income...but the thing is I don't have an annual income, I'm a college student. After filling out all of the information and applying, it said that they were unable to approve my application. What happens now? Can I take out a loan with a bank that hasn't approved me for a credit card? So overall, I'm still broke but it didn't take me too much time to realize that the situation wouldn't change. I'm gonna give Citibank a mediocre score. They could have been straight up with me from the start, but at least they didn't make me wait for the rejection that they were so ready to give me.
Also, If I was in a chat with a live agent (or robot, who knows), why wasn't I guided through the process? Asked qualifying questions? Or helped in any way that would make me feel like an empowered buyer."
Bank of America- Checking Account
"One of us attempted to open a checking account at Bank of America, here's how their experience panned out. I clicked 'get started' after clicking 'checking account' on the website. The people in the image on the front page were sitting on the floor laughing, was this a sign of what was to come?
The application brought me to a page outlining how it works. Right away I was made aware that there are three different settings for the Bank of America advantage banking, of which I am supposed to pick the one that works best for me. After comparing the three settings, I decided to go with the 'advantage SafeBalance' as it said it will help me stay within my balance and I felt it would be the most natural fit for me. After clicking 'apply,' it then said it would take 10 minutes to complete the application and gave me the option of adding a savings account which I was not interested in. Then like every application, they asked me questions about my occupation (and didn't have an option for part-time, which I am.), how much money I make, the school I go to and when I'm graduating. A lot of which seemed unnecessary and extra for a college student. I had options to either deposit money right now from my debit card in another bank, transfer funds from another bank or wait to make my first deposit after my account opens. I chose to wait to deposit the money. Then, of course, they had me go through a ton of terms and conditions which I obviously didn't read, because who has time for that? I submitted my application after entering all of the information that they wanted. It then said that my application is in review and that I will receive an email with their decision once it is approved. I did, however, receive a confirmation email upon submitting my application which told me that they'll send me another email later after my application is reviewed. I made it through, or did I?
And now, we wait."
Bank of America- Credit Card
Next up is a personal testimony by Caryn who tried signing up for a credit card with Bank of America.
"So, the home page is a beach, and there is a girl with a surfboard. It is a beautiful stock image with slick graphics. Judging from the home page this is gonna be a breeze. I'm excited. As I went on, it turned out I was wrong about the aesthetics, maybe I shouldn't judge a book by its cover. Well, the app could use a little bit of design work but at least it's straightforward and to the point. One step closer to the money!
Then I hit the page about interest rates and charges. Bam! Remember that thing about being straightforward, nope! What is APR, why is there no definition of APR? What are these numbers? What is the difference between Interest Rates and Interest Charges? Somebody, anybody? The Bank of America app took me to its online site where I applied for a credit card. It wasn't too hard, but then again I have to wait to be approved. I buzzed through all the fine print. It's so small — it can't possibly be important. LOL. During my skim of the FAQs, I noticed I had the option to get my FICO score. I turned to my friend David and asked, what a FICO score was. He sat in thought for a moment and said 'oh yeah, we learned this in one of my finance classes but honestly I forgot what it meant.' So, we made a conscious decision to ignore the FICO. I clicked apply and the hard part was done. My application was in review. Then to check on my status I had to re-input my information. 10 minutes later (which is pretty quick) I check back in to find out that I was denied! Overall, the Bank of America experience could have been easier. They started pretty well but the application was lacking in design and explanations."

Capital One- Credit Card
Another one of the students detailed their experience applying for a credit card with Capital One Bank. Here is their testimony.
"I downloaded and logged into the app and straightaway found the applications for a credit card. The Quicksilver One looks like the card for me, straightforward and just looks downright pretty too.
Now that I've chosen my card of choice, all I had to do was input some personal information. That didn't take me too long, I'm gonna get a credit card online within 10 minutes!
Okay, so maybe I celebrated a little too early.
While it took them 10 minutes to immediately deny my application, it will take Capital One 7 to 10 business days to send me my rejection letter, funny how that works out."
Wells Fargo- Bank Account
Now to Wells Fargo, where our final student details their experience opening a bank account. Here is their testimony:
"Downloading the app was straightforward, I open the home page and there is only the option to open up a bank account — that's great for me, but not too sure how I would feel if I wasn't precisely looking to open a bank account. Then the good luck continued, the app directed me to a page that told me about all my rights and I stumbled across a student deal that would waive my monthly registration fee. (Which is a little bit weird when you think of it, because as a student I'm getting rewarded for the lack of money that will be in my account. I'll take it though.)
They then asked if I was a Wells Fargo customer (I clicked no, but surely they would recognize that from the fact I am attempting to open a bank account at Wells Fargo). I was then redirected to a page where you can take a picture of your ID so they can take your information as opposed to having to fill it out — I liked this part, it saved a lot of fumbling.
At this time the app timed out, claiming it had been idle for 15 minutes which wasn't true (like I know I was a bit shaky taking the scan but definitely not 15 minutes shaky).
This was kinda disappointing because I had to go back to filling out my personal data. At least with the ID verification and camera scan, this only took me a minute. I was then asked to give my credit card information, they took VISA or Mastercard. I was also asked to pay for the required $25 fee and then I was hopefully gonna be approved.
And guess what. I was approved on the spot which put a massive smile on my face. I was not looking forward to another rejection. In the end, I was pretty pleased with Wells Fargo, apart from being timed out for 'taking too long'. They were innovative in helping me fill in my data and gave me on the spot answers. I'm happy I opened my checking account at Wells Fargo. Overall Wells Fargo - you're our fave!"
Digital Banking Onboarding - Final Word
Overall, it's clear that banks are gaining a strong digital footing and the students have come out of this experience for the better. More importantly, what became evident was that despite all the digital banking progress, there is lots more that needs to be done to close this Millenial onboarding gap. The combination of student's low financial literacy, their high expectations for usability and immediacy, led them to sour on some objectively good approaches. And, while banks are moving in the right direction, the opportunity is great but student patience is low. In the UK, the younger generations are using digital banks like Revolut, a bank that is specifically geared to a younger lifestyle. Revolut speaks their language and behaves like the applications that millennials and young people are familiar are comfortable with. Research even suggests that 50% of young people in the UK who use mobile banking apps enjoy and appreciate using these applications. Which is quite different from the students we interviewed who are scared to login to their banking application out of fear and lack of knowledge. Their banking experience has to match all our other day-to-day experiences. Millennials and younger generations spend their days scrolling and getting instant gratification from applications like, Uber, Amazon, Facebook, and Instagram who bring a progressive customer experience to match their high standards. So why should their banking experiences be different? What young people appreciate most is that our digital experiences are complemented and accompanied by a human touch. While they don't need to go to a store to get the gear they need, with unknown, complex products like banking, they need personalized interactions and simplified guidance. As was the case with one of the student's interactions with CitiBank's representative - banks recognize that there is an innate need to personalize their experience but haven't quite gotten the interface right yet.  A recent article about the
Bank of America rolling out the Erica feature
, their answer to Apple's Siri, is another step in the right direction. These are the sort of initiatives that will continue to make banking accessible to the generation of students whose life is managed through their smartphones. Banks have reached a strong level of digital interface and customer experiences have overall been climbing. But to serve this audience, everything needs to be even easier and faster. Even if an application is rejected, they want it to be on the spot. If a customer chats with a representative, then they want to complete their customer journey right then and there. This is the bare minimum today. While banking can't be simplified to a single tweet or post, we can create an improved
digital banking customer experience
. We should make it our goal to make banking experiences straightforward  - even for the person who is more accustomed to checking their Instagram account than their bank account.